World Famous Paintings
Art Prints and Posters
Pencil Drawings by our Artist Readers
Welcome to Doug's online art gallery which features artwork of world famous paintings. Be sure to check out the art prints and posters for sale. You can learn a little about Impressionism, Pop Art and there is a short biography of
famous painting artists
such as
Picasso
,
Andy Warhol
and
MC Escher
.
This is my home for Doug's art and I encourage you to check out my High Heel Gallery or the New York City art. See my new section on Pencil Drawing where you can upload and display your own art like the Pencil Drawings of Spiderman.
The art you find here is all posters, the prices are reasonable with a big variety so there is lots to see and choose.
New pages of art prints and posters are added frequently so feel free to check back and look around. These are the most recent additions with more to come soon: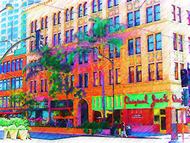 Original Joe's Restaurant San Jose

This downtown block is located next to the convention center and it has loads of great places to eat. The colorful sign and palm tree attracted me to this corner.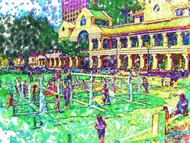 Fairmont Hotel Fountains

These fountains are located across the street from the hotel and there were lots of kids having a great getting wet on a hot dry summer day.


---
These are all posters of Doug's Art:
Below are a few more samples of my own artwork for sale as poster prints.
Mouse pads, mugs, posters, stamps, and T-shirts with my art are now available from Zazzle.
Please note the watermarks on these images do not appear on the prints shipped to your home.
See more of Doug's landscape art, high heels shoe art, and New York City Art Prints.
Artwork like the two above are available on 100% acid free premium paper. See Doug's
online art gallery
for prices and ordering information.
| | | | |
| --- | --- | --- | --- |
| --- | This store brought to you by | | --- |
This site started as a way to display only my own California landscape art prints for sale but it just keeps on growing to a complete web gallery of world famous paintings and pencil drawings by my friends and visitors.
Have a favorite artist? There is plenty of biographical information about famous artists. You can find out how the art was created, how the artists lived and worked. Artist's lifestyles and lives always fascinated me and you can find much about them here so have a look around and explore everything from abstract art, sculptures, oil paintings, cheap art prints, ancient art to contemporary art for sale. You should be able to find some cool posters here that appeal to you.
The posters for sale are well priced for every budget including the high quality giclée canvas art prints, which are fast becoming one of the most popular forms of wall art because it is such an excellent value whether as framed art or even unframed.
High heel shoe art and travel destinations you see in the art gallery California are the subject matter of my artwork. My goal is to produce distinctive prints created in a vibrant world of color and imagination that sometimes have the look of abstract paintings.
Be sure to browse through the galleries to view and purchase prints for yourself or as a gift like my bestselling Times Square, NYC shown above and in my online art gallery.


Not that long ago art prints and posters of world famous paintings were not all that common and sometimes difficult to find. That is why is is my pleasure to feature them here in a way that makes them easy to see and buy.


Here are the latest stories and artwork in the gallery.
Andy Warhol biography and facts about Andy Warhol Paintings & Prints of Campbell's Soup Cans, quotes, pop art prints and portraits online art gallery.
Funny motivational posters are the best fake motivation posters. They are humorous and never take themselves too serious. The sports and entertainment are photographed at awkward moments.
The Doug Dourgarian art gallery online of shoes, landscapes, las vegas, NYC, Napa Valley, and pics of times square.
Online art Gallery of New York City Art Prints of Times Square, Greenwich Village, Washington Arch, New York City Public Library artwork of famous places in New York City.
The High Heels Gallery 1 has beautiful shoe art of shoes and purses art prints of high heel art for sale in one online art gallery.
Submit your pencil drawings of spiderman here. Your sketches will be posted as part of our art gallery.
Do you have pencil drawings of roses that you would like to share online with others? It is easy. Draw a rose, scan the drawing, and upload it here free for others to see and enjoy your art.
This gallery of world famous art paintings has art prints and posters, by contemporary artists & well known figures most people are familiar.
These famous painting artists include French, Italian, American artists, name search famous painters from abstract, Renaissance, Impressionist and famous artists in the online art gallery.
The Web Gallery of Art has , Bicycle Psychedelic Art, King Kong Art, Photography Art, Lowrider Art, Graffiti Art, ASCII Art, Life Magazine Covers, and Landscape Art gallery.
Discover the online Art Gallery California for a beautiful selection of California famous places artwork like Napa Valley art.
Comic Book Art Gallery, Marvel, DC Comics, drawings, superheroes, Hulk, Spiderman, Iron Man, Manga, Anime, Naruto art.
Museums like National Gallery of Art have world famous paintings by artists like Cezanne, Matisse, Caravaggio, and Picasso. Gallery National Art.
Andy Warhol posters remain as some of the most poplar pieces of art that you can buy for your home. As the Prince of Pop Art, Andy Warhol art can be found anywhere.
Google search results for DougsArtGallery.com
San Jose California pictures taken downtown near the convention center turned into artistic images.