Spiderman Climbing the Skyscraper
by Doug Dourgarian
(Sacramento, California)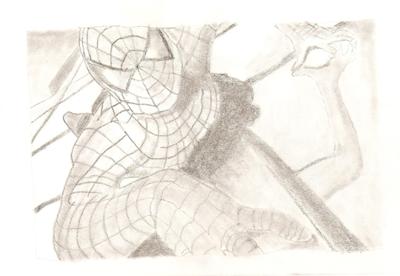 how to draw spiderman in pencil
The background of the street was too detailed for me so I cropped the image accordingly. My original is about 3x5 inches in size.

The method I used was tracing with a 4h pencil. The picture was printed out and on a glass table with a bright light underneath. Once I got the basic outline completed I removed the light.

Then I went over the drawing with a 2B pencil. Most of the shading was done using a cardboard pencil stump. The original drawing looks better than this version apparently because I went too lightly on the shading in some places like the reflection of his left arm in the window.

Most of the drawing was done with a Reeves sketching pencil 2b in my Strathmore sketchbook that I bring most everywhere I go. The shading was done with a pencil stump.
Join in and write your own page! It's easy to do. How? Simply click here to return to Drawing.