Online Art Gallery of New York City Art Prints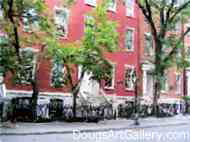 Greenwich Village New York
This online art gallery of New York City art prints feature images now available as mugs, mouse pads, T-shirts, and stamps. Click on the image for details on each full sized print, prices start at $120 USD. The artist is Doug Dourgarian. This print features a view across from Washington Square Park.

---
Greenwich Village NYC
New York art print of a pink apartment in Greenwich Village. This is a tranquil scene even though it is surrounded by a huge city. This is not far from the galleries to enjoy the art of New York City.
---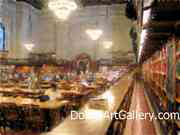 New York Public Library
This view of the New York City Public Library on 5th Avenue and its beautiful reading rooms. While not one of the most famous tourist attractions in New York City, it is a favorite for locals.
---
Times Square New York City
This view of Times Square looks down from 48 floors and the distorted buildings dramatize the carnival effect of the area in real life. **A best seller on DougsArtGallery**
---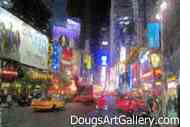 Times Square Street Level
New York art print Times Square Street Level at night is an awesome place for tourists to visit, see shows and eat in restaurants.
---
Washington Square Arch
The Washington Square Arch in Greenwich Village as seen from 5th Avenue. Many people were introduced to this view in the Robin Williams movie
August Rush
.
---
Time Square New York
This version of Time Square New York looks similar to my other versions but this one has the crowds of Sunday morning farmer's market in the street.
---
See Doug's other Art
To check out other artwork (including sexy shoes) by Doug Dourgarian and see more links for his online art gallery click here for his
web gallery of art
.
Click here to leave the Online Art Gallery of New York City Art Prints for more links to artists and their online art galleries, art prints and art posters. Browse the links found at the bottom of Home Page.