The Doug Dourgarian Art Gallery Online
This overview of the Doug Dourgarian art gallery online features high heel shoe art and travel destinations like pics of Times Square. They are the primary subject matter of my own art. My goal is to produce distinctive prints created in a vibrant world of color and imagination. Be sure to browse through the galleries linked below to view and purchase prints for yourself or as a gift like my bestselling Times Square, NYC.


---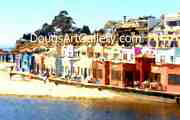 Capitola Art and Wine Festival
Purchase this print on 11x17 inch heavy duty premium paper. The image is about 9.5x12 inches. by Doug Dourgarian $120 USD.

---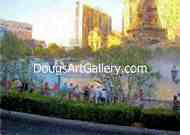 Las Vegas Bellagio Hotel Fountains
This view of the famous fountains looks across The Las Vegas Strip toward the Paris Las Vegas Hotel and its Eiffel Tower. This print is available on premium paper $110 USD. Click on the image to learn more about it.
---
The Map of Times Square
Check out my page with a Google map of Times Square plus my artwork of Times Square for sale. This print is a favorite of my art collectors. You can purchase this print for $195 on 11x17 inch 100% acid free heavy duty premium paper. To find out more, click on the image.
---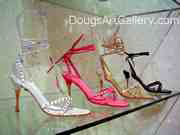 High Heels Shoe Gallery 1
See all the shoes from my current collection in this gallery, including this one called "If the shoe fits buy one in every color. You can purchase these art prints for on 11x17 inch 100% acid free heavy duty premium paper.
---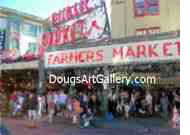 Pike Place Market Seattle
Also called the Pike Street Market or Public Market; see Doug's rendition of the central meeting place in downtown Seattle.
---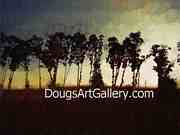 Napa Valley Trees
Looking south from Hwy 12 on the west side of bridge over the Napa River. There is a long row of eucalyptus trees near the road, this is a sunset view to remind me of a great day visiting the valley.
---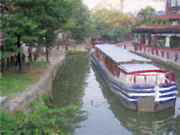 Georgetown DC Canal
The Georgetown DC canal locks are a beautiful urban setting in Washington DC
---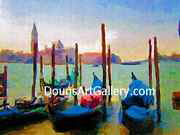 Venice Italy Grand Canal
The classic view of gondolas and the Grand Canal near St. Mark's Square has been popular artistic subject for hundreds of years.
---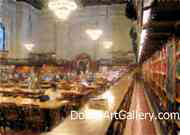 NY Public Library
The lions are in front of the building and this is the reading room at the 5th Avenue location.
---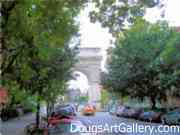 Washington Square Arch
Greenwich Village in Manhattan from 5th Avenue in autumn.
---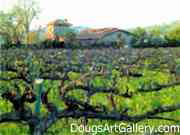 Napa Valley in Winter
Napa Valley in Winter at sunset is full of color with mustard weed in the vineyards
---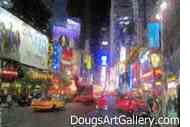 Times Square Street Level
Times Square at street level at night is an awesome sight to behold
---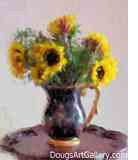 Sunflowers
Still life of sunflowers on a small table in a ceramic pitcher
---
Doug's art gallery online
What is the background on the ladies shoe art? Interestingly, Andy Warhol found his first artistic commercial success with shoes as his subject matter. His creativity has influenced me over the years. Somehow by pure coincidence; my first commercial success was with the fashion shoes. Check out my high heel shoe art gallery. These quality art prints make popular gift items.
Travel Destinations
The art gallery of Travel Destinations continues to grow with more work added regularly from famous landmarks. The original photos are mine because I visited each of these places. Landscape photography has been a lifelong hobby and, like many people, I love to travel.

Other Art of Interest

Brush Stroke Photography
Brush Stroke Photography describes my artwork that begins as a photograph that I transform into pleasing, colorful artwork.
Artist Bio Doug Dourgarian
Artist bio Doug Dourgarian, background on the motivation and artistic influences.
Guaranteed Returns and Exchanges
Purchase information, returns, privacy, and shipping information on Doug's artwork.
Discount Picture Frames
These framing tips include ideas for using discount picture frames to make artwork prints look their best.
To check out artwork by Doug Dourgarian and see more links for his online art gallery click here for his web gallery of art .
To contact us please use the form for your questions and comments.
To exchange links with us please visit this page.


Click here to leave Doug Dourgarian art gallery on line for his other pages or see more links for artists and their online art galleries, prints and posters browse the links found at the bottom of Home Page.