Andy Warhol Paintings
Art Biography
Once the Andy Warhol paintings became popular to the general public he captured attention with his Campbell Soup Cans and Brillo boxes. They were hits with broad appeal. Critics said his art could be reproduced, some wondered how far his style would go, that is, would he end up painting every item on the grocery store shelf?
As it turned out, he didn't have to replicate every item, just the ones that meant something to him. There is an Andy Warhol museum with many thousands of his fine art pieces in his hometown of Pittsburgh, PA.
---

Andy Warhol Shoes
Overview of how Andy Warhol shoes like the famous Diamond Dust series influenced his rise to fame and controversy.
---
Andy Warhol Biography
An Andy Warhol Biography listing major events in the artist's life. There is still great interest in books about how he was shot and when did he die.
---

Andy Warhol Quotes
The Andy Warhol Quotes on this page help give insight to man famous for saying everyone wants to be famous for 15 minutes.
---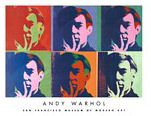 Andy Warhol Self Portrait Part 1
Most Andy Warhol Self Portraits are a Pop Art favorites like his modern art paintings. As a portrait artist of others he used a silkscreen method but only used photos for himself.
---

Andy Warhol Self Portraits Part 2
---
Andy Warhol Pictures
The Andy Warhol pictures most famous were portraits of Marilyn Monroe, Liz Taylor, Elvis and other celebrities that started as Polaroid pictures made into Pop Art.
---

Andy Warhol Pop Art
Andy Warhol Pop Art was not his original idea; he wanted to belong and then became a symbol of the movement. His celebrity clients and paintings of Marilyn Monroe launched his style to be very famous.
---

Andy Warhol Art
The best Andy Warhol Art work in his first gallery are on exhibit in modern art museums. His self portrait pictures with quotes are now popular as prints and cheap posters.
---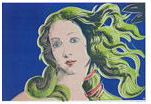 Andy Warhol Bio
The Andy Warhol Bio is short, tells of his mother, Truman Capote, how he died, and Pop Art. His silkscreen paintings of Mick Jagger, the Campbell's Soup Can started as photos and now made into a bag, rug and watch.
---

Andy Warhol Prints
Andy Warhol prints of Campbell's Soup Can, Marilyn Monroe, and Elvis Presley helped form the Pop Art movement in the 1960s. Now these posters and prints for sale on canvas to anyone.
---

Andy Warhol Art Work
The Andy Warhol Artwork most famous was Pop Art, the popular objects like Campbell's Soup Cans and Brillo Boxes found in everyday life and products in the mass media transformed into art gallery and museum pieces.
---

Andy Warhol Soup Can
The Andy Warhol Campbell's Tomato Soup Can is probably his best known artwork. He produced thousands of silkscreen art prints including portraits of Marilyn Monroe and Pop Art paintings.
In today's high end auction art market an original Warhol frequently sells in the millions. His name is synonymous with Pop Art. His style popularized in the Marlyn Monroe portrait of four images in different colors on one panel is part of our culture today, often called "Andy Warhol style." Recently I found a digital photo editing software product that would take an ordinary digital photo and instantly convert it to the Warhol style.
More Information About Andy Warhol Paintings

Andy Warhol Shoes
The first of Andy Warhol famous paintings was work he did on ladies shoes. They served as inspiration for some of my own shoe art on display here. Most of the Andy Warhol paintings of shoe art were produced in his earlier years as a New York City commercial artist in the 1950s.
Frequently he would take a shoe, make it larger than life and then add his special touch that would let them sparkle with personality. Also, he would make small paintings of the shoes, about greeting card size, and give them away as gifts and thank you notes.

Andy Warhol Biography
That whole process of cultivating a select group of influential friends was instrumental in helping him grow to a huge success. As I understand it, he would give copies of his prints to New Yorkers that he felt would help him become successful. The interesting thing about Andy is that he also wanted to become one of them: rich, famous, popular socialites. The whole concept of becoming a celebrity appealed to him enormously. It worked by publicizing himself and his work at the same time.
He founded Interview magazine which gave him access to celebrities and a lifestyle he enjoyed. Another example of his desire to mix with famous names was his frequent visits to the Studio 54 nightclub. He and his associates would often seek out visiting celebrities, meet them, and eventually receive portrait commissions of them. At that time, the 1960s, his fee for a portrait was $25,000 which was significant amount. He sold many of them, often to people well known in music, books, television, and movies. Copies of some memorable portraits such as Elvis, Chairman Mao, and Jackie Kennedy are available here the Andy Warhol Paintings Online Art Gallery as copies.

Shoe Paintings by Andy Warhol
The Diamond Dust Shoe paintings were an interesting group because his original intent was to use actual diamond dust to make the painting glitter. Unfortunately his experiments with the process led him to use a special glass mixture to give the sparkle he was after. Even so, the art was a hit and remains one of the most popular of Andy Warhol's paintings to this day.
Andy Warhol Art.com
In his book, The Philosophy of Andy Warhol, he presents his ideas on the nature of art: "Making money is art, and working is art and good business is the best art." That quote, in my opinion is very telling of his work. The best example I can give is the story about the shoe artwork he created as prints. After making a run of prints he would count the output and then proudly compute its value in dollars. Andy Warhol paintings was his business and he treated it like a job: "Business art is the step that comes after Art. I started as a commercial artist, and I want to finish as a business artist." And he also said of his work:" I do the same thing everyday. I go to work and paint. I try to turn out as many pictures as I can."
Andy Warhol Posters and Prints
Most artists, even today, do not accept Warhol's notion of "business art" instead believing that art dealers and their business community are separate from the creative side of art. Many artists have told me on several occasions, that Thomas Kinkade is not really an artist or has "sold out" as an artist in order to achieve commercial success. Kinkade's extensive network of exclusive galleries, dealers and an efficient marketing machine are more developed than Warhol's Factory which was really more on the production side of art. There is no question though, Warhol sold and produced a lot of art, as does Kinkade.
Andy Warhol Quotes
"Everyone will be famous for 15 minutes." Is probably his most famous quotation and I find it has morphed over the years to "15 minutes of fame" meaning the same thing.: his idea of short-term, disposable celebrity.Andy was highly quotable so he even had a quote about that: "Don't pay any attention to what they write about you. Just measure it in inches."
My favorite Andy Warhol quotation is "It's the movies that have really been running things in America ever since they were invented. They show you what to do, how to do it, when to do it, how to feel about it, and how to look how you feel about it." To me Andy Warhol paintings are some of the best from the 20th century. Abstract art galleries.

To check out artwork by Doug Dourgarian and see more links for his online art gallery click here for his web gallery of art .

Click here to leave Online Art Gallery of Andy Warhol Paintings for his other pages or see more links for artists and their online art galleries, prints and posters browse the links found at the bottom of Home Page.