Georgetown DC Canal
Visits to Georgetown DC are usually fun events. There are lots of hotels serving a brunch or nice bistro dining offering things like sushi. The shopping is great too, you can find shops or boutiques that carry just about anything.
Once you are in the Georgetown area for special events it is fun to stay for the evening in a elegant hotel or a cozy inn. Don't want to spend the night? After your event try stopping by a bar or cafe before heading back home. The ambiance is charming and the bars are popular for meeting friends.
The people that live in Georgetown love the convenience of all Washington DC has to offer and are willing to pay a higher prices for apartments. Imagine living in a location just blocks from college, a job or a quick walk to the store. The urban oasis known as the Georgetown Canal is historic and offers a jogging trail through town.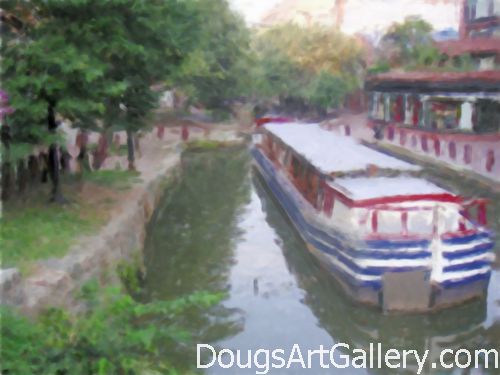 Georgetown DC Canal by Doug Dourgarian $120 USD
Purchase this high quality art print expertly produced on 11x17 inch 100% acid free heavy duty premium paper. When matted and framed it makes a beautiful addition to your décor.
These prints make wonderful gifts.

The image is about 9.5x12 inches

The printed version you receive is of much higher quality than the web formatted image appearing on your computer screen.

The watermark does not appear on the finished print shipped to your home.

Click here for more purchase information of my artwork.

Other Art of Interest
Things to do in Seattle
This list of 15 items of things to do in Seattle includes a Seattle Mariners season schedule & Pike Street Public Market
Street Scene Georgetown Washington DC
Rendition of a Georgetown Washington DC street scene at sunset on a hot summer day.
Venice Italy
The classic view of gondolas traveling the Grand Canal near St. Mark's Square has been a popular vacation filling hotels for hundreds of years.
Sunflowers Still Life
Still life of sunflowers on a small table in a ceramic pitcher.
To check out artwork by Doug Dourgarian and see more links for his online art gallery click here for his web gallery of art .
Click here to leave Georgetown DC for more links to artists and their online art galleries, art prints and art posters. Browse the links found at the bottom of Home Page.