15 Things to do in Seattle &
Pike Street Market
Watching baseball is one of the fun things to do in Seattle while visiting so be sure to check the Seattle Mariners season schedule.
Doug's Seattle tourism art print: This view of the famous Pike Place Market Seattle Center (sometimes called Pike Street Market or just Public Market) in Seattle first started as a photograph taken by me on a visit in July 2008. My family was visiting a few days before leaving on an Alaska cruise. (see the "15 Things" list below)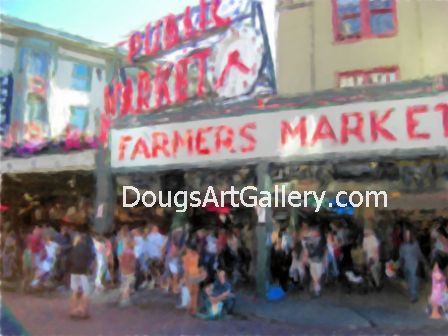 Pike Street Market, Seattle by Doug Dourgarian $120 USD
July in Seattle has beautiful sunny weather. The day I visited the Pike Street Public market was warm and everyone had a great time outdoors. The Pike Street Market district was unknown to me until I saw the Meg Ryan-Tom Hanks Sleepless movie about 10 years ago. The sign, which even locals call iconic, captured my imagination. Once on the scene, the smells, restaurants, and street singing swung me into a happy mood. This is a fun place and there are a lot of things to do in Seattle while visiting.
Purchase this print on 11x17 inch 100% acid free heavy duty premium paper. The image is about 9.5x12 inches. The watermark does not appear on the finished print shipped to your home. Click here for more purchase information of my artwork.

---
15 Things to do in Seattle Downtown
Here are some ideas that are very popular and all located in or near the downtown Seattle tourism area. This is too much to do in one day but gives a variety things to do:
See the Pike Street Market, sometimes called Pike Place Market Seattle

Go to a baseball game. Click on the Seattle mariners season schedule on this page to the right

Visit Bainbridge Island and

Ride the ferry. The Washington State Ferries are an inexpensive way to see the beautiful Puget Sound and surrounding areas

Eat at the Purple Café restaurant

See the "blob" Experience Music Project rock and roll type museum designed by architect Frank Gehry

Go to the top of the Space Needle

Seattle Art Museum exhibits

Guided tour of the city on a bus or, ride the Ducks of Seattle

Ride the monorail

Walk along the waterfront

Shop at Nordstrom downtown

Have a cup of coffee at the first Starbucks

Other Art of Interest
Georgetown DC Canal
The Georgetown DC canal locks are a beautiful urban setting in Washington DC.
Venice Italy
The classic view of gondolas traveling the Grand Canal near St. Mark's Square has been a popular vacation filling hotels for hundreds of years.
Sunflowers Image Still Life
Still life of sunflowers on a small table in a ceramic pitcher.
Georgetown Washington DC
Rendition of a Georgetown Washington DC street scene at sunset on a hot summer day.
To check out more artwork by Doug Dourgarian and see more links for his online art gallery click here for his web gallery of art .
Click here to leave Things to do in Seattle for more links to artists and their online art galleries, art prints and art posters. Browse the links found at the bottom of Home Page.