Twin Palms at Sunset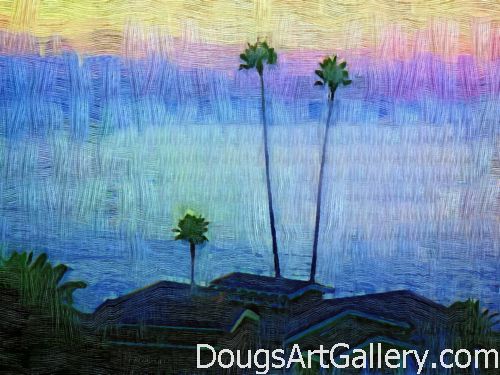 Twin Palms by Doug Dourgarian $120 USD
Background Story on this Art
The sunset view of palm trees at the ocean in southern California's Orange County near a beach house is easy going and colorful.
Order Information
Purchase this high quality art print expertly produced on 11x17 inch (28x43 cm) 100% acid free heavy duty premium paper. When matted and framed it makes a beautiful addition to your décor.

These prints make wonderful gifts.

The image is about 10x14 inches(27x36 cm)

The printed version you receive is of much higher quality than the web formatted image appearing on your computer screen.

The watermark does not appear on the finished print shipped to your home.

Click here for more purchase information of my artwork.

---
See Doug's other Art

Art Gallery California
Discover the beautiful selection of California famous places artwork including Ansel Adams, Lake Tahoe, and the beach.
Wine Label Art
The wine label art tells a lot more than what the wine is and where it came from.
Capitola Art and Wine Festival
Capitola Art and Wine Festival is Fun For The Whole Family in a small ocean side city next to the beach.
Napa Valley Map
Click on this Napa Valley map to see winery and restaurant information.
Napa Valley in Winter
Napa Valley in Winter at sunset is full of color with mustard weed in the vineyards.
Napa Valley Trees
Check out the artwork of the welcoming eucalyptus trees along Hwy 12 at the southern gateway to the valley.
To check out other artwork by Doug Dourgarian and see more links for this online art gallery click here for the web gallery of art .
Click here to leave Twin Palms for more links to artists and their online art galleries, art prints and art posters. Browse the links found at the bottom of Home Page.
Do you like the artwork on this page?
Please share it so others will find it too by using the buttons below.