Women That Love High Heels
Women That Love High Heels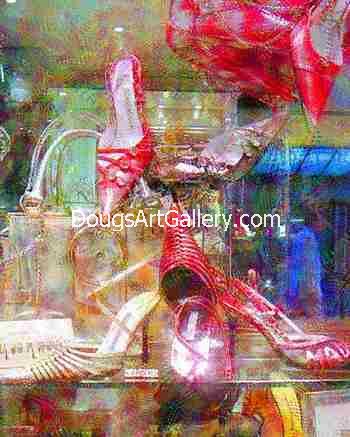 Women That Love High Heels by Doug Dourgarian $110 USD
Purchase this high quality art print expertly produced on 8.5x10 inch (28x43 cm) 100% acid free heavy duty premium paper. When matted and framed it makes a beautiful addition to your décor.

These prints make wonderful gifts.

The image is about 5x7 inches (12.5x17.5 cm)

The watermark does not appear on the finished print shipped to your home.

Click here for more purchase information of my artwork.

Background Story on this Art
This is the artwork that started the the photographer-artist (or should I say artist-photographer) side of my work, at least for public display. My previous experiments did not give me the look I was comfortable with. When I finished this one after about two dozen versions I knew I had something I wanted to show others.
At first, it started as a window display of ladies shoes at a high end boutique. That changed after I took the picture in Rome, Italy on the fabulous Via Del Corso shopping district while waiting for my wife inside this store.
Expert Designs in Windows
The window displays for each store in the area were beautiful works of art in my opinion; so I took a single shot of this window with shoes seeming to float among the handbags. The original did not look good because I took it looking through the smoke colored glass window pane.
I liked the shapes and composition but the color could not be corrected and that is when I went to work. First I wanted to just salvage the image, then I wanted to somehow change it. I spent scores of hours experimenting the possibilities. That is why I made so many versions. Once I got what I liked and shared it, the reactions have been great especially when my friends were clear I was not interested in wearing the shoes!
More to Come
Frequently I find myself waiting for my wife in fancy shoes stores so I suspect there will be a whole line of lady's shoe art available here. Please stay tuned.
---
Other Shoe Art of Interest to Women That Love High Heels
High Heels Gallery 1
The High Heels Gallery 1 has beautiful artwork of shoes and purses art prints for sale.
If the shoe fits buy one in every color
High heel shoe art of high heels titled "If the shoe fits buy one in every color" by Doug Dourgarian $120 USD.
High Heel Shoe Art
This high heel shoe art is the second in the series from Rome's fashion shopping district. Lots of fine leather and Italian designer fashions and high heel museum.
Red High Heels
The Red high heels lyrics by recording artist Kellie Pickler on her album Small Town Girl has generated a lot of interest in this print.
Bling Bling Decorated Flip Flops
These designer decorated flip flops are decorated with lots of bling bling type glitter in a beautiful image for your wall.
Decorative Shoe I Love
The decorative shoe I love in black with embroidery and a large bow on the heel, this one is very dressy but not a high heel.
High Heel Diamond Shoes
The Diamond Shoes print is rich in color and are elegant high heels.
The Purse Forum Party
The Purse Forum was an idea from a Purse Party, it is a color print featuring four purses in the Andy Warhol style display.
To check out other artwork by Doug Dourgarian and see more links for his online art gallery click here for his web gallery of art .

Click here to leave Women That Love High Heels for more links to artistic styles, artists and their online art galleries, art prints and art posters. Browse the links found at the bottom of Home Page.

Do you like Women That Love High Heels?
Please share this page so others will find it too by using the buttons below.