King Kong Art Movie Poster
The story behind King Kong art and the Movie Posters started with the 1933 adventure movie. Filmmaker Merian C. Cooper wanted to make a movie that would be described as the ultimate adventure. He wanted a gigantic ape on the Empire State Building at war with fighter planes and proceeded to build a story around that vision. (story continued below)




Poster
24 in. x 36 in.
Buy at AllPosters.com
Framed Mounted

King Kong ASCII Art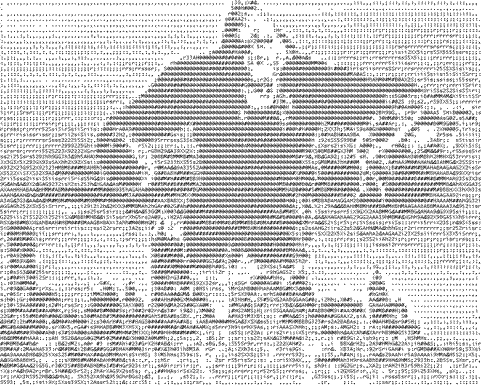 Setting Based in New York
The movie starts in depression era New York and a ship called The Venture is preparing to sail the next morning. Unfortunately, an actress meant to sail with the ship did not show. Carl Denham goes out to find a beautiful woman to accompany him on a journey of indefinite duration, to an unknown destination for a secret project and be ready to leave the very next day. He finds Ann Darrow played by Fay Wray needing a change and she accepts the job. So begins the King Kong art story that went on to make history.
Author's Adventures
The producer directors were Merian C. Cooper and Ernest B. Schoedsack. There were real life adventurers who met in Europe at the end of World War I. When they later met up again in the United States they became shipmates on a schooner to go on an expeditions to Ethiopia and the Middle East for a museum to record people and places in books and a movies. They became adventurers, overcame hazards and made a movie call Grass which was well received. This gave them the experience needed to product more films.
Building a Better Monster
King Kong was to be a 50 foot monster to be filmed by laboriously shooting one frame at a time changing a two foot model's position slightly between each take. Just like cartoons, this method achieved the look of movement. They also built a huge gorilla paw for the scenes where Fay Wray was held and a massive foot for the close ups where he was crushing screaming victims in the native village.
Empire State Building Scene
The final battle scenes in New York City atop the Empire State Building were in reality a tiny set with model aircraft in front of a rear projection of New York. Interestingly, the top of the building in the 1930s was a mooring mast for dirigible airships and that is the way it appears in the movie. A TV tower was added in 1951 extending the building's height an extra 222 feet.
Box Office Hit and Profits
The movie cost $650,000 and two years to make. The movie did not win an Oscar but it did very well at the box office. That success was the basis for the profitable sequel Son of Kong which cost less than half to make at $250,000 and took only nine months to complete.
Kong's Friend Godzilla
A version of King Kong art did come back to the screen in 1963's King Kong Vs. Godzilla. It was made in Japan along with lots of other monster heroes but the most popular of the group was Godzilla. Many other versions of King Kong have come out in the years since because he was such a popular monster for audiences.
King Kong Today
The movie's popularity to present day is renown. It has been remade countless times even now available on DVD and King Kong fan art now comes in King Kong toys, King Kong games, King Kong movie posters are still recognizable to young and old.

Other Art of Interest to King Kong Art

Web Gallery of Art
The Web Gallery of Art has Psychedelic art, Bicycle Art, King Kong Art, Photography Art, Lowrider Art, Graffiti Art, ASCII Art, Life Magazine Covers, and Landscape Art.
Psychedelic Art & Album Art
Psychedelic Art & Album Art advertised music and concerts and a lifestyle with LSD.
Bicycle Art
Bicycle Art started in paintings and posters but in reality includes the beauty of bikes themselves as artwork.
Life Magazine Covers
This collection of glamorous Life Magazine Covers has Robert Redford, Johnny Cash, Route 66, Christian Dior Dress, Ballroom Dancers for sale.
Photography Art
Photography Art has a rich history with Edward Steichen, Yousuf Karsh, and Aperture Magazine; today's digital cameras, stock agencies turn computers into "darkrooms".
Landscape Paintings
The landscape paintings art gallery features a variety of styles, places and colors that should not be missed.
Art Deco Jewelry
Vintage Art Deco jewelry is one of the most exciting areas of antique art development. It started in France using geometrical design forms and bright colors.
Art Deco Furniture
The vintage Art Deco furniture movement started in France so design could abolish the curve and move away from foreign influences.
Graffiti Art
Create your own colorful graffiti art by typing in your text and save the image to your computer free.
ASCII Art Gallery
The ASCII Art Gallery is more than symbols because it is communication in text and other ASCII art small messages that expressing emotions.
See the page about Comic Book Art and links to Marvel Comics, DC Comics, and Iron Man.
Naruto Fan Art
Naruto fan art of Naruto Uzumaki the loud, brash and world's most famous ninja. Naruto started as Manga, now in DVD anime movies, TV-television, books, toys,games, & videos. Gaara & Sasuke.

To check out other artwork (including sexy shoes) by Doug Dourgarian and see more links for his online art gallery click here for his web gallery of art .

Click here to leave King Kong Art for more links to artistic styles, artists and their online art galleries, art prints and art posters. Browse the links found at the bottom of Home Page.
Do you like this King Kong Art page?
Please share it so others will find it using the buttons below.