The map of Times Square NYC below is a handy guide while in the Big Apple. The art work of the square is available as a print, postcard, mouse pad, mugs, and other items from Zazzle. If you like NYC art; be sure to check out Doug's New York City online art gallery
.
View Larger Map
This map of Times Square NYC is searchable. Click on the map to find hotels near Times Square, theaters, restaurants, stores. You can even print a copy of your customized version of the map to keep with you while in NYC. Be sure to scroll down for the background and purchase information on Doug's image of Times Square from the 48th floor of the Marriott Marquis Hotel.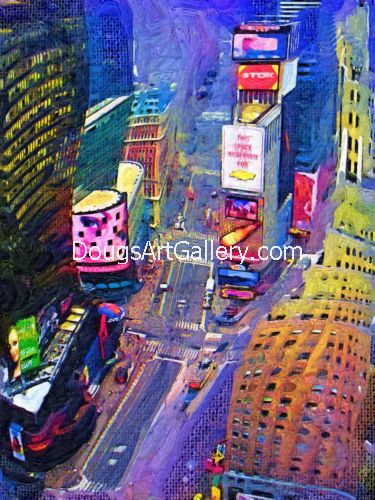 Times Square New York City Artwork by Doug Dourgarian $195 USD

To learn of the background on this art and find purchase information about all my artwork, see the details below.
---
Tourist Attractions in NYC
Do you plan to visit Manhattan New Year's Eve? This Map of Times Square NYC includes locations for the New Year's Eve Times Square ball drop which is one of New York City's most popular events. Tickets for off Broadway and Broadway shows are also available at the booth inside the Marriott Marquis Hotel on the ground floor. Many shows have discounted tkts at the booth on the day of the show; be sure to plan accordingly.

New York's Central Park is close to the square, subway stations are conveniently located as well as Fifth Avenue shopping, Radio City Music Hall, Rockefeller Center and the NBC Studios.

Print out this Map of Times Square NYC
While in the city be sure to visit other New York City attractions like Grand Central Station, the Public Library on 5th Avenue, Greenwich Village, Carnegie Hall, Lincoln Center, the UN, Madison Square Garden, and the Wall Street financial district.

---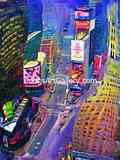 Artwork Background and Purchase Information
This is a view from the 48th floor window of our hotel room. Since I tend to be scared of heights, I had minor phobias just getting to our room from the glass elevator. Then we walked into the room and I couldn't believe the view straight down. I was scared to go within 10 feet of the window for about an hour. Then I got out my camera and started taking pictures with it pressed against the window. It was still spooky but I was able to get some shots off.

The original version had a drab, shadowless light and I wanted to make this artwork come to life. Notice there is no traffic on the early Sunday morning street. At street level Times Square had a carnival tone about it; there was live music, bright lights during midday, lots of people, street vendors of all sorts, cars, buses, you name it. This piece is my attempt to capture that carnival tone by using the colors, distortions, and the geometry of the buildings.

Purchase this print for $195 USD on 11x17 inch (28x43 cm) 100% acid free heavy duty premium paper using the PayPal "add to cart" button. The printed image is about 10x14 inches(27x36 cm). The watermark does not appear on the finished print shipped to your home. Click here for more purchase information of my artwork.



See Doug's NYC Online Art Gallery


New York City Art Prints
New York City Art Prints of Times Square, Greenwich Village, Washington Arch, New York City Public Library show famous places in New York City.

Greenwich Village New York
Greenwich Village New York across from Washington Square Park.

Greenwich Village NYC
Greenwich Village NYC street scene is tranquil even though surrounded by a huge city and is a great place to enjoy the art of New York City.

The New York City Public Library
Enjoy this view of the New York City Public Library on 5th Avenue and its beautiful reading rooms. While not one of the most famous places in New York City, it is a favorite.

Times Square Street Level
Times Square Street Level at night is an awesome sight to behold for both locals and tourists.

Washington Square Arch
The Washington Square Arch in Greenwich Village as seen from 5th Avenue. Many people were introduced to this view in the Robin Williams movie August Rush.

Time Square New York North View
This version of Time Square New York looks similar to my other versions but this one has the crowds of Sunday morning farmer's market in the street.

Related Pages


To check out artwork by Doug Dourgarian and see more links for his online art gallery click here for his web gallery of art .


Click here to leave Map of Times Square for more links to artists and their online art galleries, art prints and art posters. Browse the links found at the bottom of Home Page.


Do you like Map of Times Square?
Please share this page so others will find it too by using the buttons below.