New York City Art
Times Square Street Level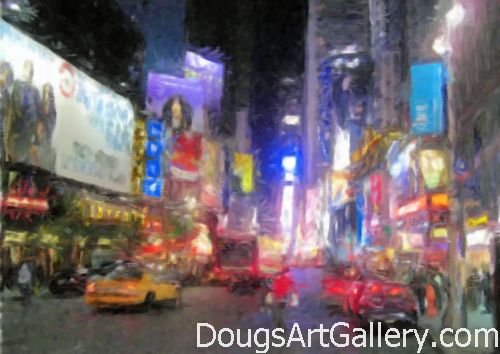 NYC Times Square Street Level Art by Doug Dourgarian $120 USD
My first version of famous Times Square New York City from my visit in 2006 has won me praise and print sales. Like most visitors there, I'm captivated by the crowds, colors, excitement, movement, even smells from the restaurants. It is a landmark intersection where music, theater, hotels and people come together.
This time (2008) I chose a photo that I took stepping onto the street in the evening while the signs were at their brightest. No distortions of the buildings on this version, the impact of the place was completely different this time compared to my visit just two years ago. Let me know which version you like best.
Order Information for Times Square Street Level
Purchase this high quality art print expertly produced on 11x17 inch (28x43 cm) 100% acid free heavy duty premium paper. When matted and framed it makes a beautiful addition to your décor.

These prints make wonderful gifts.

The image is about 10x14 inches(27x36 cm)

The printed version you receive is of much higher quality than the web formatted image appearing on your computer screen.

The watermark does not appear on the finished artwork shipped to your home.

Click here for more purchase information of my artwork.

Other Art of Interest to Times Square Street Level
New York City Art Prints
New York City Art Prints of Times Square, Greenwich Village, Washington Arch, New York City Public Library show famous places in New York City.
Greenwich Village New York
Greenwich Village New York across from Washington Square Park.
Greenwich Village NYC
Greenwich Village NYC street scene is tranquil even though surrounded by a huge city and is a great place to enjoy the art of New York City.
The New York City Public Library
Enjoy this view of the New York City Public Library on 5th Avenue and its beautiful reading rooms. While not one of the most famous places in New York City, it is a favorite.
Map of Times Square NYC
This map of Times Square NYC is searchable. Click on the map to find hotels near Times Square, theaters, restaurants, stores. You can even print a copy of your customized version of the map to keep with you while in NYC.
Washington Square Arch
The Washington Square Arch in Greenwich Village as seen from 5th Avenue. Many people were introduced to this view in the Robin Williams movie August Rush.
Time Square New York North View
This version of Time Square New York looks similar to my other versions but this one has the crowds of Sunday morning farmer's market in the street.
See Doug's other Art
To check out artwork by Doug Dourgarian and see more links for his online art gallery click here for his web gallery of art .
Click here to leave Times Square Street Level for more links to artists and their online art galleries, art prints and art posters. Browse the links found at the bottom of Home Page.
Fun fact: There is a popular children's story called Cricket in Times Square New York City.